Have you been considering updating your backyard with a hot tub?
Outdoor hot tubs are a powerful addition to any space, adding comfort and relaxation while giving the value of your home a boost and creating the ultimate space to entertain.
Whatever your reason for wanting to add a hot tub to your space, it's important to find the right one for your needs.
Not only should it be able to target your problem aches and pains, but it should also complement your lifestyle.
Not sure what hot tub would be best?
Keep reading! Below, you'll discover everything you need to know throughout your hot tub-buying journey.
We're diving into the top five steps to take before shopping, learning about the hot tubs leading the industry, and exploring six stunning outdoor hot tubs that can suit any lifestyle.
Let's get started!
Hot Tub Buyers Guide – 5 Steps To Get Started
Buying a hot tub can be a complex experience, and while it may seem as simple as choosing the model that catches your eye, there are actually a variety of other things you need to consider before you even begin exploring your options!
1. Set Your Budget
One of the first things you should do is consider what you can afford to spend.
Hot tubs are an investment and come with a wide range of price points.
Luckily, there are more affordable options if you're working within a tighter budget or smaller models with higher-end features that cost less than their larger counterparts.
But before you can begin considering those options, you'll need to know your limits.
2. Consider Financing
While your budget is vital, you may be able to get your dream hot tub without needing a large upfront payment!
As we said, hot tubs are an investment, and they should be treated as such, which is where financing comes in.
Financing can make it possible to reduce your payment to a simple monthly fee, not only making it more affordable but also making it easier to budget for.
3. Measure Your Space
Whether you plan to install your hot tub indoors or in your backyard, the size of your space is crucial in choosing the right hot tub.
Outdoor hot tubs come in a wide range of sizes. While some may be smaller, compact units that can fit nearly any space, others are much larger, requiring ample room.
Prior to shopping, take some quick measurements of your space, and consider how much of that space could feasibly be used for a hot tub.
You'll want to ensure the model your choose is one that can comfortably fit in your space without leaving it looking cramped or feeling crowded.
4. Choose Your Size
Once you know the largest size you could fit into your space, you'll need to consider how large you actually want your hot tub.
Do you want the largest one that can possibly squeeze into your space?
Would you prefer to have a smaller model just for you and your spouse?
Choosing your size is a personal part of the process, and knowing how you want to use your spa will help you find the right size.
5. Make a List of Your Must-Have Features
Lastly, you'll want to explore the wide array of features available and consider which ones you couldn't possibly imagine your hot tub without.
Some features will only be available on premium models, while others are optional add-ons, making it possible to stick to your budget without compromising on your future relaxation.
Some features to consider could be:
Lounger or open seating
Sound systems
LED lighting
Specialized jets or therapy seats
Touch control panel
Cabinetry
Water features
Cup holders
After you've made your list, it's time officially begin exploring all your options!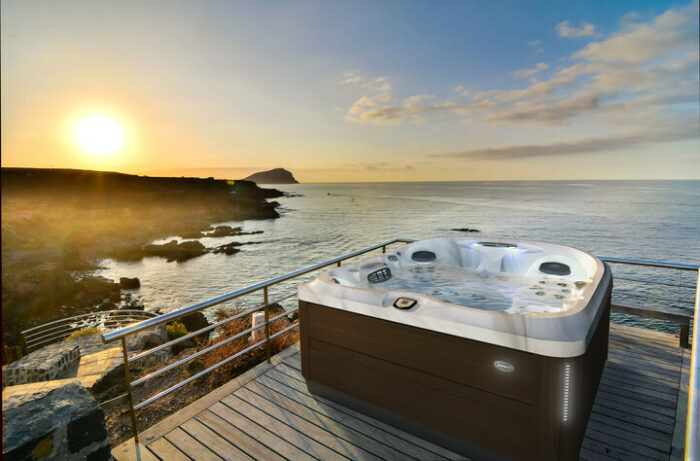 6 Stunning Outdoor Hot Tubs in Duncan
Matching your hot tub to your need is non-negotiable. Read on to explore the best models based on your lifestyle.
The Ultimate Budget-Friendly Hot Tub
Echo™️ Hot Tub | Seats 7 | $
Whether you're sticking to a tighter budget or simply want an exceptionally user-friendly hot tub, the Echo™️ Hot Tub is the perfect solution.
This outdoor hot tub may be ultra-affordable, but with its spacious interior, large enough for seven, and its quality build and design, you'll feel like royalty each time you settle in for a massage.
Better yet, the Echo™️ Hot Tub can be paired with a Suite Package, amping up its value with steps, a handrail, and a cover lifter, all bundled together at a friendly price point!
A Hot Tub For Self Care – A Solo Retreat
J-215™️ Hot Tub | Seats 3 | $$
If you're looking for a way to enhance your self-care routine, adding a private outdoor oasis may be just what you need.
With the J-215™️ Hot Tub, you can soak away your stress and embrace the blissful heat and relaxation.
Designed to include both a lounge seat and two upright seats, matching your session to your ever-changing needs can be a breeze. Simply choose which one would best ease the tension from your body, lean back, and enjoy a moment of peace!
The Perfect Outdoor Hot Tub For Big Families
J-495™️ Hot Tub | Seats 9 | $$$$
Do you have a bigger backyard and want a large hot tub that can fit your whole family?
Look no further than the J-495™️ Hot Tub! This model boasts a spacious, open design with enough seating to fit nine adults.
In this hot tub, you can enjoy a soothing foot massage from any seat, and experience a luxury full body massage from two seats tucked into two of the corners.
Better yet, with the unique high-back design of the J-400™️ Collection, you'll have additional privacy and a timeless design.
Whether you're sharing with your loved ones, or enjoying a therapeutic hydromassage while your kids play on the opposite end, the J-495™️ Hot Tub does it all.
A Cozy, Small Hot Tub For Couples
J-315™️ Hot Tub | Seats 3 | $$
If your dream is to create a stunning couple's retreat right in your backyard, the J-315™️ Hot Tub is sure to hit the mark!
This small, three-person hot tub boasts a roomy interior, with an upright lounger across one side, lined with jets to provide a full body massage, and two forward-facing seats tucked along the opposite side.
Enjoy side-by-side massages while you soak up the quiet, or catch up in lively conversation as you settle into the two corner seats.
An Outdoor Hot Tub For The Modern Backyard
J-LXL®️ Hot Tub | Seats 6 | $$$
No backyard is alike, and your personal aesthetic may require a truly unique hot tub.
The J-LXL®️ Hot Tub boasts a unique design unlike any other. With its square cabinetry, this hot tub seamlessly blends into your deck for a flawless in-ground installation.
This outdoor hot tub isn't only beautiful to look at, it's also incredibly energy efficient. From its advanced water system to the filtered LED perimeter lighting, every aspect of this model has been thoughtfully designed to maximize efficiency without compromising your hydrotherapy experience!
The Party-Throwers Dream Hot Tub
J-385™️ Hot Tub | Seats 7 | $$$
The last hot tub on our list is a great option for anyone who enjoys throwing events or parties.
The J-385™️ Hot Tub is large enough to share with six of your favourite people, and has a stunning open seating design.
With an illuminated waterfall, and the HydroSoothe™️ Massage Pillow, this hot tub is the pinnacle of relaxation. But with the ProLite™️ LED lighting, and illuminated cup holders, it certainly didn't compromise on entertainment value!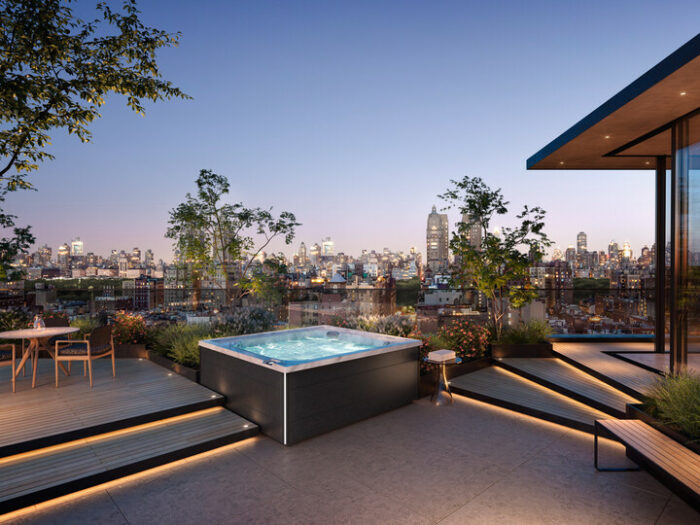 What to Do Before Your Hot Tub is Delivered
Selecting your hot tub is only the first stage of hot tub ownership.
After you've purchased your spa and set a delivery date, you'll need to prepare for its arrival.
Luckily, this process can be quite simple and is something your dealership can provide guidance on.
Some even partner with local contractors that can help you prepare what you need.
Here are some basic steps you'll need to take before your hot tub is delivered.
1. Choose Its Location
You may already know where you want your hot tub installed, but if you don't, now is the time to plan where it's going to get installed.
Ideally, you'll want to choose a location that offers privacy, while being close to both a power source and a water source.
2. Above-Ground or In-Ground
Next, you'll need to decide how you want your hot tub installed.
There are two main options to consider:
An in-ground installation
An above-ground installation
In-ground installations create a seamless experience in your yard, boasting a high-end feel. However, they take extensive planning and can be more expensive.
Above-ground installations are the simplest option and are incredibly popular. With premium cabinetry, an above-ground installation can create an appealing look to your backyard, becoming an eye-catching centrepiece.
If you're torn between the two, you could consider installing your hot tub next to a raised deck, giving the shameless appearance of an in-ground installation with the easy, cost-effective of an above-ground install.
3. Add a Foundation
Once you know where and how you'd like your hot tub installed, it's time to add a solid foundation for your hot tub.
A foundation is important for two main reasons. They:
Keeps your hot tub from sinking into the ground
Ensure its weight is evenly distributed
One of the most popular and budget-friendly options is a concrete slab.
Alternatively, if you have an existing patio or deck, you could use those as your foundation, as long as they are level and strong enough to withstand the weight of your hot tub once it's filled with water.
4. Purchase Your Hot Tub Supplies
Lastly, you need to be able to take proper care of your spa from day one.
Your hot tub maintenance routine will not only determine how much you enjoy your spa but also how long you can expect it to last.
Some of the basic hot tub supplies you'll need to have on hand include:
pH test strips
Water treatment products
Filter cleaner
A cover
To find some of the best options for your hot tub, discuss these products with your dealership, and they'll help you find the right ones.
Outdoor Hot Tubs for Sale in Duncan and Nanaimo
An outdoor hot tub is a great way to transform your time at home, whether it's through escaping for a moment of peace or reconnecting with loved ones.
At Sun Valley Pools & Spas, we're passionate about helping people find everything they need to love their outdoor space. From pools and swim spas, to hot tubs and grills, we carry all your backyard essentials.
With two conveniently located showrooms on Vancouver Island, one in Nanaimo and another in Duncan, our team of experts is ready to bring your backyard living dreams into reality.
To get started, contact or visit your local Sun Valley Pools & Spas team!