With over 60 years of experience and innovation, it's no wonder Jacuzzi® Hot Tubs are highly known and regarded throughout the spa industry. With 20+ premier spa models to shop from, finding the best hot tub for your lifestyle is a simple process – especially with help from the experts at our showroom!
Equipped with features such as the SmartTub™ System, PowerPro® Jets and stunning ProFinish® Cabinetry, you'll wonder how you ever went without a Jacuzzi® Hot Tub.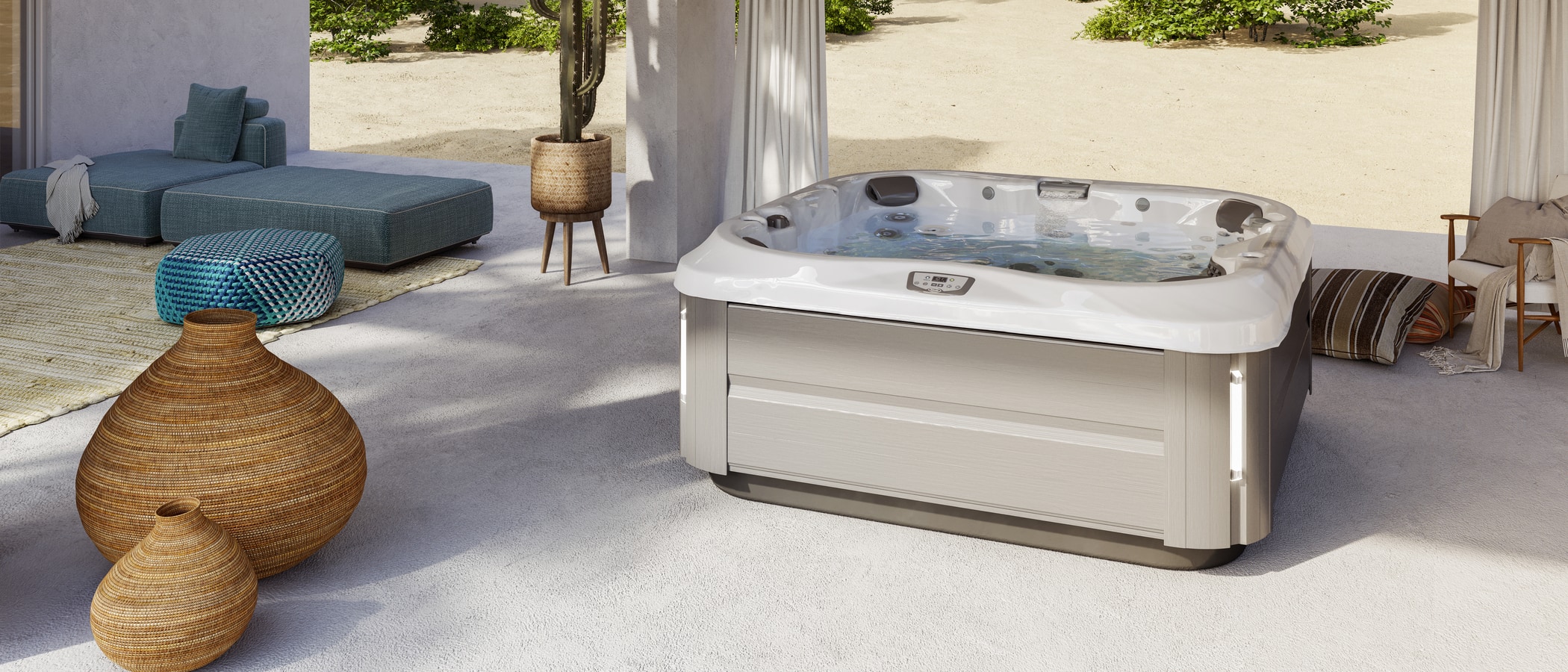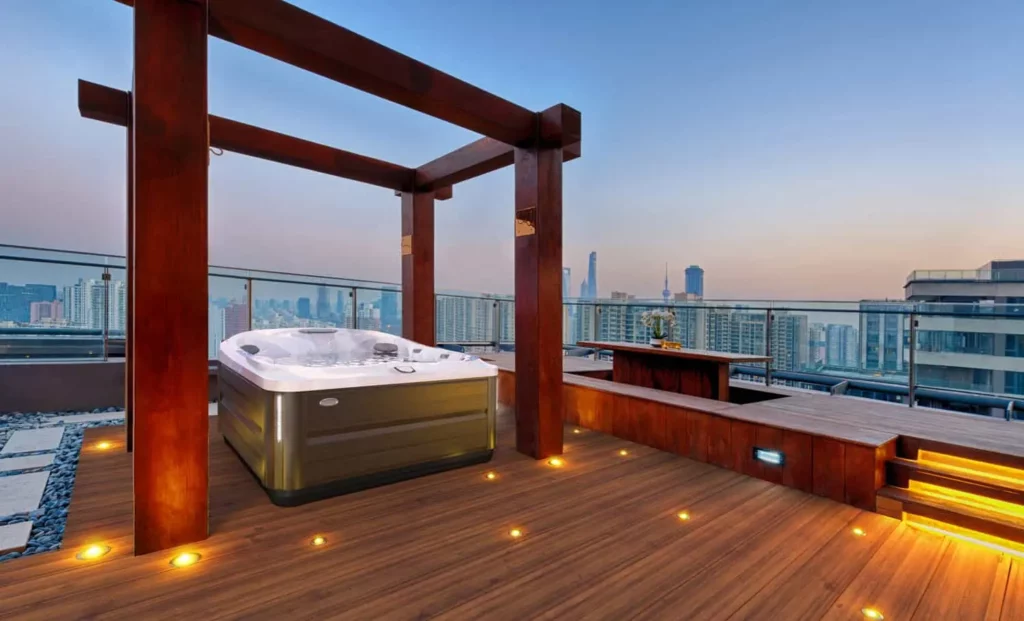 Where Style Meets Innovation
When it comes to the hot tub lifestyle, there really is no comparison. You can enjoy a simpler approach to health and wellness, all while making a lasting investment in your home and enhancing quality time with loved ones. When complemented by the innovation and excellence that is synonymous with Jacuzzi®️ Hot Tubs, your time at home will become better than ever.
Made With Excellence In Mind
Jacuzzi® Hot Tubs are designed and engineered with your health, wellness and enjoyment in mind. Only the best materials are used to craft these industry-leading spas to ensure a product that is nothing less than superior.
Unforgettable Hydrotherapy Experience
The right jets can create the perfect spa experience. Surround your body with jets that create the perfect mixture of water and air and leave your body feeling revitalized.
A Modern Approach To Spa Ownership
Intuitive and user-friendly, the control panels on Jacuzzi®️ Hot Tubs allow you to manage every aspect of your hot tub. The control panel is resistant to water and illuminates at night. This upgrade is an option on most Jacuzzi® Hot Tubs.
Personalized Spa Experience
With over 25 different cabinet and shell combinations, you can customize the entire look to your preference. You can even match the spa to your deck, patio, or backyard aesthetic for an appearance that is truly complete.
Everything you need to know about Jacuzzi® Hot Tubs, from the features and technology, to how one can change your life for the better.
Our commitment to customer satisfaction shines in our reviews. Just see what our customers have had to say!
Our Jacuzzi spa has been A plus! Lorrie, Wes, and the staff terrific over the years. Had a defect in the tub cover-stitching after one year. Lorrie went right into the action and got the manufacturer to replace at n/c. Now that's service. A great product but Lorrie and staff will stand behind you and your Sun Valley spa purchase.
Thank you Wes and Lorrie!
I recently bought a hot tub from Wes and Lorrie and it was a great experience! They are both extremely friendly and very knowledgeable, they made the entire process so easy. The level of customer service they provide is amazing, and they continue to provide outstanding service to this day!
Amazing showroom experience
Love our new hot tub, thank you Jim's pools and spas (Lorrie and Wes) for such great service from showing us and explaining the tub to a flawless installation. You really took care of us! We use it every day!!
— Grant and Tammy Easterbrook
Quick and reliable service
Excellent quality hot tubs and more! Service can't be beat. They are quick and reliable, and always there when you need them. Wes and Lorie provide such great service!
Talk about no-pressure sales. Lori and Wes put up with us for a couple of years humming and hawing over trading in our hot tub for a new one. Finally, we took the leap, and now we are saving in hydro, have expanded the size of our spas by two more seats, and absolutely love the foot massagers. You will not meet friendlier business owners which are filled with knowledge on all kinds of spas. We love our hot tub and highly recommend this business. From two happy customers.
— Mark, Alena, and family
Thanks to Sun Valley Pools & Spas Crew!
I've been driving by this place for years and finally found myself in a space where I had the opportunity to recondition an old hot tub. I popped into Jim's Pools and Spas to get things rolling and right from the start, the owners were helpful, knowledgeable, gregarious, and highly entertaining. I can tell they love what they do. I now totally get why people are so stoked about their hot tubs because thanks to them and their crew, mine is up and running and every moment spent in it is golden. Whether I'm smelling the lilacs and hearing the birds chirping early in the morning or gazing up at the stars at night. So here's the thing: go there and buy a hot tub right now. You are worth it. That is all.
Great Experience & Service
The design of the Jacuzzi J-315 is "sexy and stylish" and fits our every need and seems to be designed and contoured just for us. Being able to adjust the temp to 106 degrees makes for a great hot soak. Thanks to you all for the great service, spa, and Jacuzzi now, is the "Lexus" of hot tubs.
I paid a visit to this little store and was totally impressed. A wide range of high-quality products and service that is second to none. I was doubtful that a little pie-shaped shop in Duncan could be so good. It was hard to leave, they were so welcoming and friendly. They truly want to help you.
Contact us for current specials and sale pricing. Please provide your contact information and we will be in touch about current specials and sales!