So you've been dreaming of your own little oasis of relaxation, right in the comfort of your own backyard? Except…greenspace is an issue, and you're hesitant to commit.
Look no further than the stunning and oh-so-inviting small hot tubs from Sun Valley Pools & Spas.
Don't let the size fool you; these compact wonders pack a punch, promising a world of soothing relief.
Let's dive into the irresistible world of small hot tubs!
A Brand Where Compact Does Not Equal Less!
Jacuzzi® has been the trusted name in the spa industry for over 60 years, and their expertise shines through in every model, large and small.
Where Style Meets Innovation
Jacuzzi® has a rich history steeped in innovation, tracing back to the 1950s when the Jacuzzi brothers first introduced the revolutionary Jacuzzi® whirlpool bath.
Originally designed to provide hydrotherapy treatment for a family member's arthritis, this early invention marked the beginning of a transformative journey.
As the demand for the Jacuzzi® experience grew, the brand expanded its product line to include hot tubs, firmly establishing itself as a leader in the world of luxurious relaxation and wellness.
Unforgettable Hydrotherapy Experience
Over the years, Jacuzzi® has continually redefined the concept of hydrotherapy, evolving from a simple bathtub innovation to a comprehensive line of high-end hot tubs, renowned for their exquisite craftsmanship and cutting-edge technology.
With a relentless focus on quality and innovation, the Jacuzzi® brand has become synonymous with unparalleled comfort, durability, and style in the realm of spa experiences.
Its legacy extends far beyond mere relaxation; it encapsulates a commitment to enhancing the overall quality of life for individuals and families worldwide.
A Modern Approach To Spa Ownership
At the core of every Jacuzzi® hot tub lies the philosophy of merging luxury and innovation seamlessly.
Each meticulously crafted hot tub is a testament to the brand's unwavering dedication to providing not just a product, but an experience that transcends the ordinary—regardless of the size of the hot tub you choose!
By combining sleek and elegant designs with state-of-the-art technology, Jacuzzi® hot tubs elevate the concept of at-home relaxation to new heights.
Create Your Personalized Spa Experience
With customizable options galore, you can truly make your hot tub an extension of your style and taste.
Want more ambiance? The models in the J-300™ Collection have a backlit waterfall!
Want more privacy? The J-400™ Collection is specially designed with a raised back, offering privacy and seclusion from nosey neighbours.
The Jacuzzi® brand is proud to uphold an unwavering commitment to pushing the boundaries of innovation in every model.
Look forward to user-friendly controls, advanced water care systems, and cutting-edge features that come together seamlessly.
Even better, by upgrading to the optional SmartTub™ System, Jacuzzi® takes convenience to a whole new level–allowing you to control every aspect of your spa right from the palm of your hand.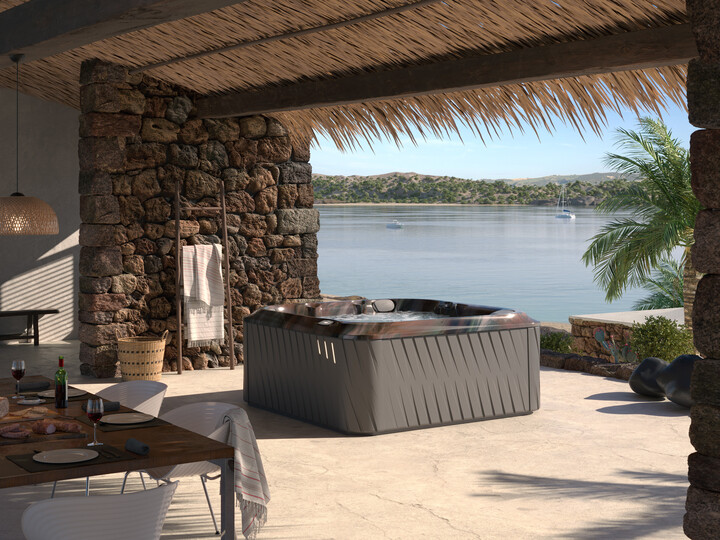 Our Top Compact Jacuzzi® Hot Tubs
When it comes to finding the perfect small hot tub to suit your specific needs and space requirements, Sun Valley Pools & Spas boasts an impressive range of Jacuzzi® hot tubs
Each compact model offers its own unique blend of luxury, comfort, and innovation.
Let's dive into the distinct features and benefits of four specific standout small hot tubs available:
The Mood™ Hot Tub
The Mood™ hot tub, part of the Jacuzzi® Play™ Collection, is a testament to the brand's commitment to delivering an exceptional spa experience without compromising on style or quality.
This 5-person hot tub offers a perfect combination of sculpted and bench seating, ensuring maximum flexibility and comfort.
What sets the Mood™ hot tub apart is its affordability and easy-to-install Plug n' Play option.
This makes it an ideal choice for those looking to enjoy the perks of a high-end hot tub without the hassle of a complex installation process.
Additionally, the adjustable stainless steel 2-tone jets, waterfall with LED lighting, and illuminated footwell create an ambiance of relaxation and luxury that is hard to resist.
The J-245™ Hot Tub
For those seeking small hot tubs that can still comfortably accommodate a larger group, the J-245™ hot tub from the J-200™ Collection is a perfect fit.
With its seating capacity of up to seven guests, this luxurious hot tub boasts ClassicPro™ jets that deliver a powerful and invigorating massage experience.
The addition of a jetted foot dome sets this model apart from others in this collection, providing a indulgent hydrotherapy session to ease weary feet.
With social-friendly open seating, combined with integrated LED lighting, this small hot tub supports a serene atmosphere—perfect for unwinding and socializing with friends and family.
The J-345™ Hot Tub
If you're looking for a compact model that doesn't compromise on comfort and sophistication, the J-345™ hot tub needs to be on your list.
With its ergonomically designed seating and superior PowerPro™ Jets, this hot tub promises a truly immersive and therapeutic experience.
The inclusion of the HydroSoothe™ no-splash jetted massage pillow adds an extra layer of relaxation, catering to those looking for targeted stress relief.
Its sleek ProFinish™ cabinetry and optional corner accent lighting can add a touch of elegance to your backyard oasis, creating enhanced tranquility for relaxation and rejuvenation.
The J-435™ Hot Tub
For the ultimate indulgence and privacy, the J-435™ hot tub stands out with its unique design and superior features.
With a seating capacity for up to five individuals, this mere seven-foot spa offers a high-back design, ensuring maximum privacy and protection from the elements.
The specialized therapeutic lounge seat, complete with targeted wrist jets and a full set to expertly massage your legs, provides a comprehensive and immersive massage experience.
This is especially ideal for those seeking relief from tired muscles and overall stress.
The inclusion of two cool-down seats allows for a more versatile and tailored relaxation session, making the J-435™ hot tub a popular choice for those who value personalized comfort and luxury.
Sun Valley Pools & Spas: Going Above and Beyond
Since our establishment in 1986, Sun Valley Pools & Spas has remained committed to providing residents of Duncan, Nanaimo, and the Cowichan Valley with top-notch products.
We are truly devoted to offering competitive prices, and a service-oriented approach that keeps customers coming back for more.
Our Commitment to Satisfaction
As a family-owned and operated business, Sun Valley Pools & Spas takes pride in nurturing strong relationships within the local community.
We believe in fostering a culture of trust and reliability that extends far beyond just selling products.
At the heart of our success lies a team of backyard living specialists dedicated to understanding your unique needs, and providing tailored solutions that fit both your preferences and budget.
With an extensive selection of hot tubs, pools, water care products, and more, Sun Valley Pools & Spas has become the go-to destination for Islanders looking to transform their backyard into an oasis of relaxation and enjoyment.
Our Assurance of Quality Care
When it comes to ensuring the longevity and optimal performance of your hot tub, Sun Valley Pools & Spas goes the extra mile with our comprehensive service and repair solutions.
Our team of skilled professionals is well-equipped to handle everything from routine maintenance to emergency repairs!
We strive to provide customers with peace of mind, and a hassle-free ownership experience.
Sun Valley Pools & Spas stands as a beacon of trust and reliability, setting the standard for excellence in the pool and spa industry.
We are ready to go above and beyond to meet your every backyard leisure need.
The Best Small Hot Tubs On Vancouver Island, BC
Sun Valley Pools & Spas collection of Jacuzzi® hot tubs offers a diverse range of options, catering to various preferences and requirements.
Whether you seek small hot tubs to better complement your outdoor space, or a spacious hot tub for social gatherings, there's a Jacuzzi® hot tub perfectly suited for you.
Focused on an unmatched combination of advanced features, ergonomic design, and unparalleled comfort, our hot tubs are designed to transform your backyard into a haven of relaxation and luxury.
Let Sun Valley Pools & Spas Make Your Backyard Dreams Come True!
Ready to dip your toes into the world of ultimate relaxation and luxury?
Sun Valley Pools & Spas is just a call or visit away from turning your backyard into the envy of the neighborhood!
Whether you're envisioning a serene evening soak or planning the ultimate backyard party with friends, our warm and welcoming team is eagerly waiting to help you find the perfect hot tub that fits your style and budget.
Don't hesitate to reach out and unleash your backyard's true potential with a splash of fun and relaxation.
Our friendly backyard living specialists at Sun Valley Pools & Spas are equipped with all of the knowledge and expertise to guide you on this exciting journey toward creating your own personal oasis.
Plus, we love pets, so don't hesitate to bring your furry friends along to join in on the fun—after all, who doesn't enjoy a little paw-fect company during a relaxing soak?
With two fully-stocked island showrooms located in Duncan and Nanaimo, your backyard transformation is just a hop, skip, and a jump away.
Get ready to elevate your leisure experience and say hello to a world of comfort, luxury, and endless relaxation.
Contact Sun Valley Pools & Spas today and let the adventure begin!